FOOSH type injury on left.  
No prior trauma, surgeries,  carcinoma  or corticosteroid/opioid regimen reported.
What do you see?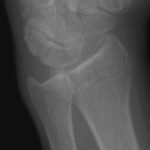 PA view of left wrist.
A transversely oriented radiolucency is present
at the distal portion of the radial styloid process.
PA close up of left wrist.
The close up view shows a vertical vertical fracture line with soft tissue swelling adjacent to the ulnar styloid process.
Intra-articular extension is a worrisome radiographic concern.

Click Here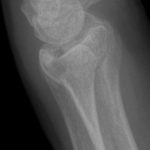 Lateral view of the left wrist showing dorsal displacement.
Distal radial styloid fracture considerations:
Is there osteopenia ?
Is there soft-tissue injury?
Is the fracture simple or comminuted?
Is there intraarticular (radiocarpal or distal radioulnar joint involvement)?
Is there displacement? Is there abnormal dorsal or, less likely, volar tilt of the articular surface?
Is there subluxation or dislocation of the distal radioulnar joint?
Is there fracture of the ulnar styloid?Read More: https://www.ajronline.org/doi/10.2214/AJR.13.12140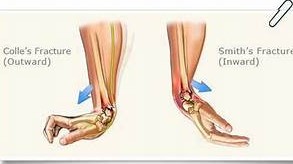 REFERENCES:
Fracture of the Distal Radius: Epidemiology and Premanagement Radiographic Characterization
Jack A. Porrino, Jr.1, Ezekiel Maloney1, Kurt Scherer1, Hyojeong Mulcahy (1)(https://www.ajronline.org/doi/10.2214/AJR.13.12140)